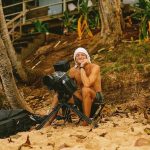 CWBY+ is thrilled to announce the latest addition to its creative team — Andy Woodward. Woodward is a seasoned Director of Photography and Colorist, renowned for his dynamic and beautifully stylized imagery.
Living on the North Shore of Oahu, Woodward transitioned to commercial projects after spending two years filming professional surfing. Today, his portfolio includes work across diverse genres including action sports, short films, commercials, and fashion.
Woodward recently served as the Director of Photography for rising surfing talent, Noah Beschen, on the North Shore. Here, he filmed and edited a diverse range of content that advanced Beschen's surfing career. Additionally, he has directed, filmed, and edited content for major brands such as RVCA, Hurley, Billabong, and the World Surf League.
Academically, Woodward holds a B.S. in Business Marketing from Montana State University, Bozeman, and a Minor in Photography from the School of Film and Photography at the same institution. He also engaged in a multicultural environment studying South African political history, entrepreneurship, business management, and marketing at Stellenbosch University, South Africa.
Woodward's skill set is diverse and extensive. He is fluent in Spanish and English, and holds a Commercial Drone Pilot License. His proficiency extends across the Adobe Suite, RED and Canon cameras, and a variety of film formats. He has hands-on experience with graphic design, developing and printing film photographs, hand-making books, and operating studio setups.
Outside of work, Woodward is a passionate surfer, skateboarder, snowboarder, and paraglider.
His academic background and professional experience make him an invaluable asset to the CWBY+ team. As we continue to grow and evolve, we are confident that Andy Woodward's vision and skills will play a significant role in delivering our commitment to quality and creativity.
Check out his work here: