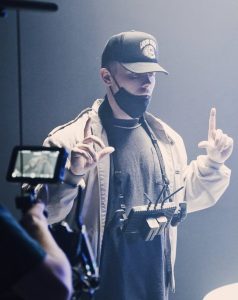 CWBY+ is thrilled to announce the latest addition to our team, Zac Stracener. With a strikingly creative voice, Zac brings with him over 1.5 million followers from the realm of social media, where he is known for producing deeply poignant and compelling short films on platforms like TikTok.
With a strong background in crafting powerful, award-winning films and engaging commercial pieces, Zac adds a depth of artistic vision and a mastery of narrative storytelling to our CWBY+ team.
His journey began with a simple handheld camera and an innate passion for storytelling. His first short film, "Broken Valor", set the stage for his future in film-making, leading to a victorious win at a film festival which he entered with a film created almost entirely single-handedly. This success marked the dawn of a promising career in cinematic artistry.
Venturing into the dynamic world of TikTok, Zac's initial experiment with the platform resulted in a staggering nine million views in a single day. His propensity to create meaningful stories within the bite-sized framework of the platform catapulted his success.
"Working with a team is super crucial, and I would be nothing without the crews that I've worked with," Zac explains, expressing his enthusiasm for collaboration. His commitment to constant improvement, and his goal of continuing to grow on social media while also breaking into full-length films, is inspiring.
His story is one of a dedicated artist constantly striving for improvement, demonstrating that if you can tell a captivating story in 16 seconds, imagine what you can do with two hours.
His recent work includes the music video for Baker Grace's "I Feel For You" which he couldn't have achieved without his committed team. Zac is highly motivated by his dream of breaking into the world of feature films and series. He recently completed a feature script that can also be adapted into a limited series of six episodes.
Drawing inspiration from acclaimed cinematographers like Denis Villeneuve, Christopher Nolan, and Greig Fraser, Zac is equally dedicated to creating impactful content on mental health issues, aiming to educate and initiate important conversations amongst his followers.
Zac's advice to aspiring content creators echoes his journey: "Just do it." He encourages consistency and resilience in the face of challenges, and credits his own success to persistence and the actual doing.
We're confident that Zac's addition to the CWBY+ team will usher in a new era of compelling content creation and cinematic storytelling that will continue to inspire and move audiences around the world.
Please join us in extending a warm welcome to Zac Stracener.
About CWBY+: CWBY+ is a full-service digital creative agency with a passion for storytelling. Our team of industry professionals specialize in producing innovative, high-quality content for a diverse range of industries and platforms.
View his reel below and follow along with his journey on Instagram, Youtube, and TikTok: