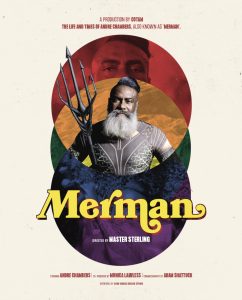 Director Sterling Hampton IV, proudly represented by CWBY Creative, is thrilled to announce the world premiere of his new documentary short film, Merman, at the upcoming Tribeca Festival on June 11, 2023. Merman unveils the unique life and struggles of André Chambers, a Black, queer man who grew up amidst societal clashes in a Southern California beach town.
The film features a mix of interviews, animation, and a quirky 1970's blaxploitation motif. It presents an intimate portrait of Chambers, focusing on his defiance of stereotypes, love for superhero culture, and his incredible journey through the turbulent 1960's and 1970's. Merman is a poignant testament to resilience, creativity, and the power of self-expression.
André Chambers, the focus of the film, remarked, "We were the only Black family in our neighborhood. I grew up thinking I was dirty or bad because of the color of my skin. It's taken most of my life to realize that doing things my own way is good. Now I tell others to just be themselves and let people accept you — or not."
Today, Chambers is a registered nurse, known for his compassion and empathy. He reaches out to people through various social platforms, where he shares messages of acceptance, positivity, and hope. When he's not working or inspiring others online, he is actively involved in charitable events in his current hometown of Palm Springs, California.
Sterling Hampton IV, an award-winning film director, photographer, and editor, is the creative force behind Merman. Hampton's work spans diverse genres, from music videos to commercial and narrative short films. His portfolio includes work for global brands and artists, such as will.i.am, Mercedes-AMG, G-Eazy, and Mario.
Hampton's passion for filmmaking is driven by his aspiration to change people's perceptions and challenge societal norms. His previous indie short film, "Kylie," was officially selected by Sundance, Tribeca, AFI, Urbanworld film festival, and was featured on the LA Times Documentary platform in 2022.
Sterling Hampton IV continues to push boundaries within the music video and commercial world. His next goal is to direct full-length documentary and narrative films to fully express his creative and humanitarian vision.
Join us at the Tribeca Festival for the world premiere of Merman, a film that promises to inspire, educate, and touch hearts.
Watch the trailer here:
About Sterling Hampton IV:
Sterling Hampton IV is an American film director, photographer, and editor from southern California. With his roots in documentary filmmaking, Sterling has directed works ranging from music video, commercial to narrative short film for clients such as will.i.am, Mercedes-AMG, G-Eazy, Mario and others. Sterling's passion for film stems from a deep desire to change the way people think and challenge our understanding of the way we live our lives. For more information, visit www.mastersterling.com

About CWBY Creative:
CWBY Creative is a creative studio specializing in producing a diverse range of content across multiple mediums. They are committed to delivering high-quality, engaging content that resonates with audiences and adds value to brands.